Our Philosophy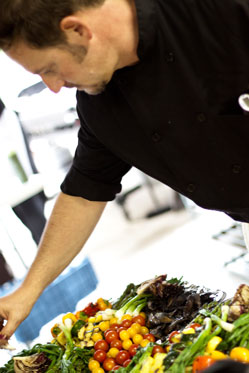 Wesley's Catering based in Chelsea, Michigan, offers the finest in food and catering service in the Ann Arbor area.
Cutting Edge Cuisine.  We provide innovative high quality, handcrafted cuisine that is as creative as it is delicious.
We believe in allowing the freshest ingredients to speak for themselves. Less is more. The same is true with design.
A passion for food is what drives us. We do this because we love it, and we're here for one reason: we want to help you create something truly special.
Wesley's Catering services a range of events:
weddings
anniversaries
baby showers
baptisms

graduations
tailgates
barbeques
corporate

dinner parties
holiday parties
and more . . .
Our mission is to help you entertain with grace and ease. Your event is always about you, not us. We want to help you to create something special.
Wesley's Catering has a wide variety of menu plans to fit any budget. We invite you to experience the services of Wesley's Catering.
See what our clients have said about us and browse our gallery!