Chef Todd's Blog
Repeat customers treated to a special meal!
May 13, 2017
Wesley's Catering catered the Ducks Unlimited Annual Spring Banquet at Dexter Knights of Columbus again last night. I think that's at least our 4th year in a row for a great group.
We introduced a new dish for the group that was really well received . . . Duck Confit Ragu with Fresh Pappardelle. I think it may have been close to sheer perfection. Bon appétit duck hunters!
Beef Bourguignon.  Yum.
February 26, 2017
There's something so homey about coming in from the cold to a pot of delicious bubbly goodness on the stove. I'm talking about Wesley's beef bourguignon! It's thick, rich, and beefy – just what you want! We made it for a couple of events and wedding tastings lately.
We seared the beef cubes and we love cooking the vegetables separately – they retain their bite and flavor without turning into mush. Definitely do the pearl onions . . . they are one of our favorite parts! Oh and the mushrooms! There must be a hearty serving of delicious mushrooms!   Ugh! We should have gotten a picture!
Smoked Brisket Chili . . . Absolutely Amazing!
November 19, 2016
Using smoked brisket in our chili made it rich and indulgent! I swear it might be the best thing we've ever made!
Last Sunday we decided to cook up one of our favorite chili recipes, but instead of ground beef, we substituted smoked brisket. Along with the smokey flavor of chipotle peppers it was like heaven on earth!
The best part was that this pot of chili graced us with even more leftovers for the next few days and just kept getting better and better. It's the chili that keeps on giving. Yessssss.
Masa, Masa and More Masa
April 24, 2016
Wesley's Catering is on vacation in Tulum and Cancún Mexico this week.  The views are beautiful, the sun is hot, the beaches are white and sandy and the fresh Masa is absolutely deliscious!  We can't seem to get enough of it.   Masa de maíz is the longer name for it.  It's a maize (corn) dough made from freshly prepared hominy.   We've had it in Enchiladas, Tostadas, Empandas & Quesadillas.   We are contemplating how we can incorporate this into future Wesley's Catering menus.  We are brimming with ideas!
Prosciutto Mac & Cheese Bites
January 23, 2016
Wedding tastings left, right and center!  The star of our tastings for brides (and all events for that matter) are our signature Prosciutto Mac & Cheese Bites.  Tasty little bombs of homemade comfort goodness!    They make a wonderful part of your appetizer menu for your guests.    People can't seem to get enough of them.
Orange Cinnamon Rolls for Christmas
December 19, 2015
Orange sweet rolls have to be one of my favorite things about Christmas. My mom serves them every year for breakfast and we all go crazy over them. They are the perfect Christmas treat. Let's not even get started on the orange butter cream frosting. I could eat that straight from the bowl!
Here is the perfect recipe for them!
Ingredients:
1/2 cup warm water
1 (1/4 oz) pkg active dry yeast -2 1/4 teaspoons
2 TB sugar
1/2 cup butter, melted
3/4 cup warm milk
3/4 cup sugar
1 egg, whisked
1 tsp salt
4 cups flour (more or less as needed)
*Filling*
1/2 cup butter, softened
1 cup sugar
zest of 1 orange
1-2 TB fresh orange juice
*Frosting*
1/2 cup salted butter
21/2 cup powdered sugar
zest from one orange
3 tsp orange extract
1 TB milk
Directions:
In a small bowl add warm water, yeast and sugar. Let sit for about 10 minutes until bubbly.
In a large bowl whisk together butter, milk, sugar, egg and salt. Add yeast mixture when ready and stir until combined. Add two cups of flour and stir until smooth. Add the remaining flour 1/2 cup at a time. Knead for 5 minutes. If the dough is too sticky you can add a little more flour. Once dough is nice and soft, cover the bowl with plastic wrap and place in a warm spot. Allow to double in size. If the dough isn't rising I will turn my oven to 200 with a small pan of water, turn it off and set my bowl in there to finish rising.
Once your dough has doubled in size punch it down and roll out on a floured surface. You want to form a rectangle approximately 15×20 inches. It doesn't have to be perfect. Spread filling onto the dough with a brush and then roll the dough up. I did not use all of the filling. Cut the dough into one inch pieces with floss or a large knife. Place dough onto a buttered baking dish with rolls about 1 inch apart. Let rolls sit for about an hour or until rolls have doubled in size.
Bake at 350 for 15 minutes or until golden brown. Remove from oven and allow to cool.
Beat together the frosting ingredients in a large bowl and then spread on top of the rolls. You can add more milk or powdered sugar to reach your desired consistency.
Enjoy!
A Few Late Summer Weddings
September 28, 2015
We've been so busy with weddings that we finally had a chance to post some our latest wedding pictures.  Stop by a take a look when you have a moment.   It was a wonderful season with a lot of great folks.  We are honored to be chosen to participate in their special day with our gift of good eats!    Everyone seemed to enjoy it!
Wedding Food Trends
July 29, 2015
Themes
How about a bacon theme with bacon wrapped shrimp, candied bacon, BLT bites, cheddar ale shooters with crumbled bacon. Recently we catered a 'Great Gatsby' garden party wedding. Some things we had were tea sandwiches, champagne cocktails with a vintage speakeasy type of feel.
Serving Stations
From mac 'n cheese bars, sundae bars, smore bars, mimosa bars, bloody mary bars to make-it-your-own taco bars, surprise your guests with an variety of fun comfort and party food.
Brunch Weddings
Brunch weddings have become popular lately due to the reduced cost in venue and vendor charges as well as the fabulous breakfast food. Everybody loves breakfast!
Late Night Snacks
Been dancing and drinking all night? Just when it you think it's almost over, couples revive the party with late-night snack trays. Warm cookies, sliders, fries, hot pretzles, tacos and even pizza are just a few of the options.
Wedding Timeline Tips
June 24, 2015
Sometimes, however, weddings have a mind of their own and don't particularly enjoy being held to a precise schedule. Below are a few tips and tricks to help create a realistic timeline that leads to less worry and more party.
Timelines can be confusing when you've never done one—even if you've attended a lot of weddings you probably haven't paid much attention to how long each individual aspect lasted. Creating a wedding day timeline is a great way to make sure your event runs smoothly and keeps your wedding moving, without feeling rushed or ending up with weird chunks of time where nobody knows what to do.
First, it's worth noting that timelines are a guideline and not etched in stone. Here are some things to think about when setting your timeline:
Bride/Groom Arrival Time
Guest Expected Arrival Time
Picture Session Time
Ceremony Start Time
Ceremony End Time
Bar Open Time
Appetizer Hour Start Time
Champagne Toast Time
Speech Time
Dinner Service Time
Cake Cutting / Dessert Service Time
Dancing Time
The real secret to timelines? Two words: Buffer. Time. The key to running a smooth event is building pockets of buffer time discreetly into to the timeline.
And always. Round. Up. It's very easy to bump up the timing of an event (and just have more time to party in the end), but it's really difficult to stop a spectacular domino effect once it's begun.
Remember, your wedding timeline is a guideline and nothing is set in stone. Short of making sure your food gets served while it's hot and fresh, it's always best to follow the timeline as feels appropriate in the moment. A little flexibility goes a long way and is ultimately the key to enjoying a wedding day that feels natural, comfortable and just plain fun.
Peppermint Bark
December 21, 2014
Peppermint bark is one of our most favorite things about Christmas. It's Christmas chocolatey goodness. We make it in flat sheets of white chocolate on top of dark chocolate with peppermint candy cane pieces broken on top. Break me off a piece!!
Portable Sandwiches
April 2, 2014
Everyone seems to love Wesley's Catering's Gourmet Burger sliders and our Mini Beef Tenderloin Sandwiches. Who wouldn't? Portable and tasty! Small sandwiches like this seem to be all the rage lately. They fill you up and while socializing. We might have to come up with a few more of them!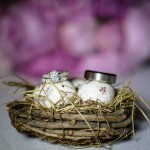 Seems like everyone is getting married!
January 29, 2014
We have been doing so many wedding quotes! Summer 2014 wedding dates are booking up and we are getting inquiries for 2015! Whirlwind.
We are thinking of doing a yule log this year with chocolate hazelnut ganache. What do you think?
December 15, 2013
A yule log or bûche de Noël is a traditional dessert served near Christmas, especially in France. It was an innovative French pastry chef (in the late 1800s) who came up with the idea of replacing the real 'yule' log with a cake that was log shaped.
Bo Friberg in his book 'The Professional Pastry Chef' gives us a little history on the Yule Log. He tells us that it was a tradition, dating from pre-Christian times, to honor the God Thor and to celebrate the winter solstice with a building of a bonfire. The story goes, that as Christmas came to replace the Winter Solstice celebrations, France carried on the tradition for a 'yule' log by cutting down a tree each year and then placing it in the fireplace so the heat from the log could be used to prepare the Christmas Eve midnight supper. The ashes from this 'yule' log were believed to hold magical and medicinal powers that would ward off the evil spirits in the coming year. The tradition of substituting a real 'yule' log with a dessert 'Yule' Log was probably started when homes were built without fireplaces so they could not burn a real 'yule' log.
The traditional bûche is made from a genoise or other sponge cake, is rolled to form a cylinder with layers of chocolate buttercream frosting and then frosted again on the outside. The most common combination is a basic yellow sponge cake, frosted and filled with chocolate buttercream; however, many variations on the traditional recipe exist, possibly including chocolate cakes, ganache and espresso or otherwise-flavored frostings and fillings.
Bûches are often served with a portion of one end of the cake cut off and set on top of the cake or protruding from its side to resemble a chopped off branch, and bark-like texture is often produced in the buttercream for further realism. This is often done by dragging a fork through the icing.
Wesley's Catering Loses a Mentor
November 29, 2013
Almost a month ago, Wesley's Catering lost a very important mentor. Karen Anderson was a dear friend and a huge inspiration in starting our business. She was the epitome of hostess extraordinaire. Karen had a wonderful palette and a great flair for ingeniously mixing dishes with the freshest of ingredients. She was a known figure at the various farmers markets and restaurants she frequented. Wesley's Catering wouldn't be where we are today had it not been for her. So raise a spoon or a fork or a glass in the honor of Karen Anderson.
Brrrr . . . Seems Like Time for Beef Stroganoff
November 13, 2013
It was really brisk today. Feeling like a good old fashioned comfort food is in order. Beef Stroganoff from Wesley's Catering is downright divine. We make it with beef tenderloin with a sour cream based sauce over egg noodles. We can't get enough of this 19th Century Russian gift!
Brunch Wedding? Why not!
October 23, 2013
Weddings are customarily seen as a late afternoon-evening event, which means dinner, cocktails and lots of dancing. While most couples choose a ceremony and reception later in the day, have you ever thought about having your soiree in the late morning?
From the food aspect at Wesley's catering we love it! How about many delicious mini quiches, piles of bacon, and heaps of Rosemary Roasted Breakfast Potatoes. Those with a sweet tooth will revel in our Crème Brûlée French Toast. Bring on the Lox and Bagels with our Chive Cream Cheese! Oh, and don't forget about the mimosas and the Bloody Mary bar. Maybe even a coffee bar! We can't wait!
Meatballs Everywhere!
September 17, 2013
At Wesley's Catering we have been making a lot of meatballs lately. They are the ultimate comfort food. We love Swedish Meatballs, Spaghetti with Meatballs, Italian Wedding Soup with Meatballs, Curried Lamb Meatballs, Meatball Bahn Mi Sandwiches and Meatball Hoagies! The possibilities are endless. Just let us know and we'll make you some!
Wesley's Vegetable Stew
September 2, 2013
It's the end of summer and we are already planning our annual Vegetable Stew. At the end of the season, we gather all of the great produce up and make an absolutely stunning vegetable masterpiece! We don't ruin it with any meat! Pure vegetarian to let all the season's flavors shine through. We can't wait!
Farm to Table Event?
August 14, 2013
We've started thinking about a farm to table event. Maybe mid-fall. Let us know what you think!
Wesley's Catering is Going on a Northern Michigan Long Weekend!
July 29, 2013
We are excited. We've worked very hard for the last 12 weeks. It's time for a little long weekend vacation to Northern Michigan and Lake Michigan area for Wesley's Catering. We are looking forward to relaxing and being waited on. We can't wait to hit some great restaurants! Vacations are all about the food!!!
Barbecue Beef Brisket – One of the Trickiest Cuts To Master
July 10, 2013
The other day Wesley's Catering did beef brisket for a graduation party and it was delectable!  We have a family reunion coming up next weekend and are pleased to be able to present this cut of meat again.
In a way, beef brisket is barbecue's ultimate test. Notoriously challenging to cook, it requires a long-haul dedication and attention to detail to transform this cut of beef into something mouthwatering. When done right, beef brisket can stand up to any serving of smoked pork.
Many who take up the test never reach success. Bad brisket can be tough, dry and bland or disproportionately fatty and near-disintegrated.
Most important is starting with a brisket that is large, marbled and thick enough to endure the strain of slow smoking.  Briskets that start off too small, taper off at one end, or lack enough protective fat to cover all of the flat are ill-fated. Also important are proper setting time, the separation of flat and deckel, and cutting against the grain.
The deckle is the hard fat and intercostal meat on the inside surface.  In most stores brisket is sold "deckel off," the briskets smoked by barbecue kings are cooked whole. Many cooks will serve only the leaner portion of a brisket, discarding the fattier pieces altogether. However, starting with a well-marbled cut that allows that fat to work its magic is crucial.
Graduation Season is On!!
June 18, 2013
We are in the the thick of the graduation season and one thing we keep hearing from frazzled families is that they cannot cook the food, serve the drinks, clean up empty plates, clean up spills, and still be the congenial all at the same time. We understand that completely. That's why catering is so helpful!
Hiring a caterer for your graduation party does not have to be over the top expensive either. The party can be an easy backyard BBQ party or a casual picnic lunch. Some ideas are unique gourmet pizzas such as Artichoke, Pesto, Sundried Tomatoes & Feta or Fresh Mozarella, Olive Oil, Arugala & Proscuitto. Another big hit for us is our Mac and Cheese Proscuitto Bites. It's a little taste of homemade goodness with a twist!
Give us a call! You may be surprised at what you find!
Who Doesn't Love Food on a Stick?
May 21, 2013
We sure do! It's a convenient method of delivering tasty food! Just to name a few, Wesley's Catering has fruit skewers with a Nutella Drizzle, Caprese skewers with a Balsamic splash, Thai Chicken Skewers with a Peanut Sauce, Grilled Shrimp Skewers with Special Remoulade and Lime Zest, BBQ Chicken Skewers and Beef Skewers with a Rosemary Chimichurri. It's all sounding so good, we think it's time to come up with more skewer recipes!
Seasonality of Catering
May 6, 2013
Catering season is starting to kick into high gear again! We've got a Ducks Unlimited dinner this Friday and a fantastic wedding next Saturday! And a couple of parties for Dexter Wellness Center opening in between. Spring is looking good!
Catering is a finicky beast though. It's tough and fun seasonal business.
Pimento Cheese Sandwiches – A Master's Tournament Tradition
April 11, 2013
I am at the Master's Golf Tournament this week and it made me think about the history of it's famous pimento cheese sandwiches.
For many years a single older man, made the recipe and served it at the Masters Golf Tournament. But about 10 years ago, the tournament changed vendors. Unfortunately the old man, refused to give the recipe to the new vendor. The new vendor went on a quest to recreate the sandwiches from a lone frozen batch as it's guide.
The new vendor went through hundreds of batches and still couldn't find the right recipe. The cheese was the trickiest part. Finally they went to the old man's supplier, to find the right cheese and ingredients. Unfortunately all they found from the supplier was the type of cheese, mayonnaise and pimentos. The missing secret ingredients were still that . . . missing. After much thought and trial and error, they finally found it! And so it was for years.
Those pimento cheese sandwiches are as much of a tradition as the Green Blazers themselves.
Unfortunately yet again the Masters seems to be in the same pickle since they have changed vendors again and the last vendor won't release the secret recipe to the brand new vendors. Who knows how this is going to end up.
But I have my own delicious recipe for pimento cheese sandwiches that I serve at golf tournaments. It may not be their secret recipe but I think it's pretty darn tasty!
Easter Brunch Inverness Country Club – Open to the Public
March 26, 2013
Make Reservations by Wednesday night 3/27!
Easter Sunday 3/31
12 Noon – 2PM
$20/adult
$5/children under 12
Menu:
– Seasonal Fruit Platter
– Mixed Greens with Maytag Bleu Cheese and Bacon and a Warm Bacon Viniagrette
– Applewood Smoked Bacon
– Maple Sausage
– Southwest Tortilla Egg Casserole with Salsa, Sour Cream and Cilantro
– Proscuitto Cream Eggs en Cocotte with Spinach
– Jiffy Biscuits & Homemade Sausage Gravy
– Rosemary Roasted Potatoes with Peppers and Onions
– Crème Brûlée French Toast
– Asparagus with Hollandaise
– Herb Marinated and Grilled Leg of Lamb with Rosemary Chimichurri
– Roasted Ham with Bourbon Glaze
– Bread Pudding with Whiskey Sauce
– Brownies
– Coffee
– Orange Juice
– Sparkling Punch
– Plus more!
Make a reservation soon! Reservations needed by Wednesday night 3/27.
Contact us if you want to reserve some seats!
734-646-0858
toddbrown@wesleyscatering.com
Click here for a map to Inverness Country Club
13893 North Territorial Road
Chelsea, Michigan 48118
My Wife Can't Stop Thinking About Bread Pudding!
February 14, 2013
I think I'm on the hook for making Bread Pudding with Irish Whiskey Cream Caramel Sauce tonight!
Can't Stop Thinking About Grilling!
February 14, 2013
Lately all I've been thinking about is grilling and smoking! I can't wait to get some ribs in my ceramic grill and smoker! Pulled pork! Beef brisket! Grilled corn! Grilled veggies! Grilled peaches! Smoked hard-boiled egg spread! Smoked whitefish pâté! Bring it on!! Spring can't come soon enough!
Gearing up for the Upcoming Wedding and Graduation Season
The calls and emails have been coming in steadily over the last couple weeks for Weddings and Graduation parties this summer! It's going to be a busy one. We are also honing our menus and tightening up our office processes before the big wild ride hits!! Looking forward to it!
Corned beef and Cabbage Week Around Our House
We love our corned beef and cabbage at our household.  We don't often allow ourselves to eat it with it's high fat and sodium content.  But every once in a while it's an indulgence we must endure.  I was curious about the history of corned beef and cabbage because and found that it's really more of an American tradition than an Irish one!
Corned beef, a salt-cured brisket, was customarily placed in barrels with coarse grains, or "corns" of salt. One of the first references to corned beef is in the 12th century Gaelic poem Aislinge Meic Conglinne, where it references a dainty, gluttonous indulgence. Fast forward to the 17th century, where producing corned beef had become big business for the Irish cities of Cork and Dublin.   From there, beef was cured and exported to France, England and America.
Beef was a luxurious meat unobtainable for most Irish. Cows, if owned at all, were raised primarily for milk, butter, cheese and cream.  Sheep were raised as a source of wool and pigs were left to the peasants to consume.
Salt pork and bacon, became the typical meat of Irish tables. Sir Charles Cameron said that he does "not know of any country in the world where so much bacon and cabbage is eaten."
In the mid 19th century when the Irish potato blight, or Great Famine, forced many Irish immigrants to America, the Irish immigrants found corned beef to be both more available and more inexpensive than it was in Ireland. Both corned beef and cabbage were ingredients of the lower working class, and their popularity among the Irish immigrants likely had little to do with likenesses to the food of Ireland and more to do with the rather inexpensive nature of salt cured beef and green cabbage.
By the 1920s, corned beef and cabbage came to have an association with "Irish American" cooking and St. Patrick's Day.  But while both salted beef and green cabbage have historic connections with Ireland, the ritual of serving corned beef and cabbage for St Patrick's Day is exclusively an Irish American tradition.
2012 – A Great Year
2012 has been a whirlwind. Little did we know how quickly this would take off. It's been a busy, busy year and we've met a lot of great people and had the opportunity to cater a lot of really fun events! We are looking forward to 2013 with anticipation. I hope 2012 was great to all of you and that 2013 will be even better!
Holiday Appetizer Star
Oysters Rockefeller has become a bit of a holiday tradition in our household. It's such a wonderful dish but I wanted to learn more about the history of it.
First of all in a nutshell for those who are unfamiliar with the dish, Oysters Rockefeller is baked oysters served in the shells with bold flavor built with freshly blended mainly herbal ingredients. Some say the herb flavor includes parsley, celery leaf, and fennel bulb. Others say it has celery leaf, taragon or chervil. Additionally the dish normally includes spinach or watercress but the original Oysters Rockefeller is said to have been made with watercress, not spinach. Lastly a key ingredient is an anise-flavored liqueur that enhances the herb flavor. Through the years it is noted that the liqueur may have gone from absinthe to Herbsaint and then Pernod.
History tells us that in 1899 Jules Alciatore of Antoine's Restaurant in New Orleans, Louisiana developed Oysters Rockefeller in the face of a shortage of French snails, substituting the locally available oysters for snails. Antoine's Restaurant has been serving the original recipe dish since then.
The dish was given the name Rockefeller because the green was the color of greenbacks and the whole dish was so rich that he wanted a name that would signify the "richest in the world." The first name to come to his mind was John D. Rockefeller, a name once connoted the absolute pinnacle of wealth and position. It is rumored that Jules Alciatore took the original recipe with him to the grave and to this day the current recipe served at Antoine's Restaurant is a closely-guarded secret.
The recipe though has been imitated, adapted, and evolved in a host of ways. While many have achieved the trademark green color of the original—a color easily attainable by using spinach in the recipe—it is said that few get the flavor of Antoine's recipe right. Antoine's chefs have repeatedly denied that the authentic recipe contains spinach. A 1986 laboratory analysis by William Poundstone in Bigger Secrets indicated that the primary ingredients were parsley, pureed and strained celery, scallions or chives (indistinguishable in a food lab), olive oil, and capers.
Holiday Entree Star
December 17, 2012
Catering has settled down just a bit this week for Wesley's Catering and it seems that the holidays are pretty much full swing.  So we are finally beginning to think of our own holiday dinner. What is your traditional holiday entree star?
Thanksgiving has turkey's pretty well locked up but also enjoys a reprise in December by many families. Yet there are numerous other meats are also also considered traditional at holiday gatherings. Other family options range from rib roast, ham or even a crown roast of lamb. Smaller families may opt for a bird smaller than a turkey — such as capon, duck, goose or Cornish hen — or a small cut of meat like a pork tenderloin or veal roast. Some families partial to wild game may even go with venison or pheasant.
Around our household, our favorite holiday meal is a traditional bone-in standing rib roast. This entree feeds a crowd, fills the house with savory, meaty aromas, and is mostly hands-off, freeing us up to prepare the multitude of other appetizers and side dishes and spend some time with our families.
Snickerdoodles
November 28, 2012
We've been on a Snickerdoodle kick lately. But we just haven't perfected the recipe yet. Must keep trying and consuming more Snickerdoodles until we get it right!
You may be asking what in the world is a Snickerdoodle? A Snickerdoodle is a fantastically delicious cookie that has been rolled in cinnamon and sugar. It's definitely close to a sugar cookie, but yet just different enough to make it delectible.
What about the name Snickerdoodle? Some say it's just a made up name and others have said it is probably German in origin, and that the name is a deviation of the German word Schneckennudeln (lit. "snail noodles"), a kind of pastry.
Snickerdoodles use "cream of tartar" which activates the baking soda during the baking process to make it rise. Cream of tartar is a fine white powder that is called for in many recipes. It is an acid known as potassium hydrogen tartrate, and it's formed during the fermentation of grapes into wine. Most say cream of tartar itself has no flavor. I personally haven't decided on this yet. More taste tests are needed!
I want to experiment with putting toffee in a Snickerdoodle. How does that sound?
Shepherd's Pie
November 24, 2012
Making Shepherd's Pie tonight and I began wondering how long it has been around. Seems that it dates back to 1791 or before and has also been called by the name of Cottage Pie. In early cook books, the dish was way to use up leftover roasted meat of any kind, and the pie dish was lined with mashed potato as well as having a mashed potato crust on top. Primarily it was made with beef or mutton. After 1877 it was most often referred to as Shepherd's Pie and was made of lamb.
Fast forwarding to 2012, I've had vegetarian versions made with lentils which were extremely tasty. The best I have found locally is at the Sidetrack Bar and Grill in Ypsilanti, Michigan's Depot Town. Their version has a tasty crust on top along with the mashed potatoes. I can't remember what their crust is made of though it's thicker than phyllo dough but has a similar texture. We'll see if the one I am making tonight lives up to theirs but that is a hard act to follow. I am excited to try it. The time waiting for it to cool down seems to take forever!
A Night of Food and Fun . . . part 4
November 21, 2012
Finally got the details fully ironed out including the menu – the most important part!!
Friday, December 7th from 6PM – 11PM
Inverness Country Club, Chelsea, MI
Looking for a fun night to kick off the holiday season? Join us for dueling piano performances topped off with appetizers and a full buffet style dinner by Wesley's Catering. It's a full night of good food and great entertainment! Dueling Pianos features two talented piano entertainers playing your favorite songs coupled with an interactive experience you won't forget!
Menu:
Assorted appetizers
Homemade Herb Rolls – Served With Butter • Pear Pecan Salad – Romaine & Mesclun Greens Tossed With Candied Pecans, Pears, Red Onion & Dried Cranberries. Dressed with an Apple Cider Vinaigrette & Topped with Parmesano Reggiano.
Beef Tenderloin Platter – Peppercorn & Coriander Rubbed Tenderloin, Grilled Medium Rare & Sliced Thin. Beautifully Serpentined on an Herb Garnished Platter & Drizzled with our Basil Chimichurri.
Grilled Chicken Breast – An Orange Juice and Brown Sugar Brined Chicken Breast Smothered With A Cherry Port Sauce.
Basil Pesto Linguine Tossed with Sauteed Shrimp, Sweet Peppers & Sundried Tomatoes • Red Skins & Arugala – Pan Seared Potatoes Seasoned with Stone Ground Mustard & Spicy Arugala & Enriched with Cream.
Roasted Asparagus – Tender Asparagus Oven Roasted With Extra Virgin Olive Oil & Sea Salt. Topped With Grated Parmesano Reggiano. • Assorted Desserts
BYOB.
Reserve Seats now. Seating is limited. Tickets are $40 for individuals or $75 per couple.
Contact us for reservations:
734-646-0858 or toddbrown@wesleyscatering.com
Inverness Country Club
13893 North Territorial Road
Chelsea, Michigan 48118
Still no Venison
November 21, 2012
Still no deer. But I see them in my yard in the middle of the night. I think they are taunting me.
Where's the Venison?
November 19, 2012
Spent the last couple days deer hunting and I have barely seen anything worth taking. But I really need to finish out the season with some backstraps that I can turn into heaven! Unfortunately most folks don't properly age venison and they way over cook it. There is very little fat in venison and overcooking it can lead to a chewy texture and bitter taste. I take alot of care to ensure my venison is cooked to perfection.
A Night of Food and Fun . . . part 3
November 19, 2012
Looking for a fun night to kick off the holiday season? Come join us on Friday, December 7th at Inverness Country Club to enjoy live dueling piano performances topped off with with appetizers and a full buffet style dinner by Wesley's Catering. It's a full night of good food and great entertainment!
BYOB. Menu to come soon. Start time 6PM.
Reserve Seats now. Seating is limited. Tickets are $40 for individuals or $75 per couple.
Contact us for reservations:
734-646-0858 or toddbrown@wesleyscatering.com
Inverness Country Club
13893 North Territorial Road
Chelsea, Michigan 48118
A Night of Food and Fun . . . part 2
November 15, 2012
Looking for a fun night to kick off the holiday season? Come join us on Friday, December 7th at Inverness Country Club to enjoy live dueling piano performances topped off with with appetizers and a full buffet style dinner by Wesley's Catering. It's a full night of good food and great entertainment!
BYOB. Start time TBD.
Reserve Seats now. Seating is limited. Tickets are $40 for individuals or $75 per couple.
Contact us for reservations:
734-646-0858 or toddbrown@wesleyscatering.com
Inverness Country Club
13893 North Territorial Road
Chelsea, Michigan 48118
A Night of Food and Fun
November 13, 2012
Cooking up a night of great food and entertainment at Inverness Country Club in Chelsea, MI on Friday, December 7th.  Interested?  More details to follow soon.
Figs Seem to be All the Rage
November 12, 2012
Not sure where this new trend is coming from but figs seem to be popping up everywhere lately.    Must be that figs are peaking seasonally right now or their association with the holidays.  Either way,  I'm thinking a fig  grilled cheese with smoked gouda and arugala is sounding interesting right now.
Holiday Menus
November 10, 2012
It's still a little early to be decorating for the Holidays, but it's the perfect time to start planning for your gatherings!  Take a look at the menus we've put together.  Relieve the stress–let us do the cooking!
New Menus in the Works
November 1, 2012
Tasty stuff coming soon!
Fall is Upon Us!
October 13, 2012
The Fall Season brings the onset of cool weather and the urge for warm comfort food.  Soup!!   We just finished up a batch of Harvest Vegetable Soup last week.    This week we made a great batch of Thai Curry Butternut Squash with Chicken.  So filling and delicious!
Taste of Chelsea
October 4, 2012
We are quite excited about the upcoming Taste of Chelsea event hosted by St. Mary's Church and benefiting St. Louis Center on Saturday October 6th from 5:30 pm-8 pm.  We've been invited to create a special dish that highlights Wesley's Catering.    Click here to learn more:  http://www.chelseamich.com/a-taste-of-chelsea-returns-to-support-st-louis-center