Holiday Celebrations

Holidays Are Here
Arugula Fennel Salad
Baby Arugula & Thinly Sliced Fennel Lightly Drizzled with Lemon Juice & Extra Virgin Olive Oil. Topped with Shaved Parmesano Reggiano.
Beef Bourguignon
Beef Slowly Braised in Red Wine & Veal Stock with Mushrooms & Pearl Onions.
Poached Salmon
Atlantic Salmon Filets Poached in an Herbed Court Bouillon & Sauced with a Dilled Béarnaise.
Dauphiné Potato Gratin
Thinly sliced Potatoes Layered with Cream, Gruyère, White Cheddar, Leeks & Garlic.
Haricots Verts
French Green Beans Sautéed with Olive Oil, Tomatoes & Garlic. Finished with Fresh Basil.
Crème Brûlée
Toasted Vanilla Bean Crème Brûlée with Fresh Berries.
Season's Eatings
Harvest Salad
Romaine & Mesclun Lettuce Mix Combined with Dried Cherries, Tomatoes, Red Onion, Walnuts, Maytag Bleu Cheese & Tossed with a Raspberry Vinaigrette.
Grilled Pork Tenderloin
An Orange Juice & Brown Sugar Brined Pork Tenderloin Grilled & Sliced. Smothered with a Cherry & Apple Port Chutney.
Chicken Piccata
Thinly Sliced Chicken Breast Topped with a Lemon Butter Caper Sauce on a Bed of Angel Hair Pasta.
Roasted Potatoes
Oven Roasted Redskins Tossed with Extra Virgin Olive Oil & Fresh Rosemary.
California Medley
Steamed Broccoli, Cauliflower & Carrots Tossed in Butter & Fresh Thyme.
Festive Fare
Pear Pecan Salad
Romaine & Mesclun Greens Tossed With Candied Pecans, Pears, Red Onion & Dried Cranberries. Dressed with an Apple Cider Vinaigrette & Topped with Parmesano Reggiano.
Grilled Beef Tenderloin
Whole Beef Tenderloin Marinated in Herbs & Olive Oil. Sliced & Paired with our Wild Mushroom Merlot Demi-glace.
Chicken Marsala
Oven Roasted Chicken Breast Sliced & Topped with a Mushroom Marsala Sauce.
Garlic Mashers
Baby Redskins Boiled & Mashed With Roasted Garlic, Heavy Cream & Parmesano Reggiano.
Roasted Asparagus
Tender Asparagus Oven Roasted with Extra Virgin Olive Oil & Sea Salt. Topped with Grated Parmesano Reggiano.
Company Party
Strawberry Spinach Salad
Baby Spinach & Romaine Lettuce Mixed with Sliced Strawberries, Toasted Almonds & Red Onion. Tossed with Romano Cheese & a Honey Lemon Vinaigrette.
Grilled Mahi Mahi
Mahi Mahi Filets Brushed with an Herb Vinaigrette then Grilled & Topped with a Lime Mango Chutney & Fresh Cilantro.
Basil Basmati
Steamed Basmati Rice Mixed with Extra Virgin Olive Oil, Lemon Zest & Fresh Basil.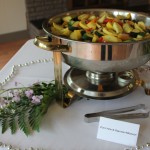 Butternut Squash Lasagna
Layers of Velvety Basil Béchamel Sauce & Puréed Butternut Squash Combined with Italian Cheeses.
Zucchini & Yellow Squash Medley
Sautéed with Red Onion, Red Pepper & Fresh Thyme.
Seasonal Fruit Platter
Strawberries, Cantaloupe, Pineapple, Grapes, Kiwi, Raspberries & Blackberries Served with a Vanilla Yogurt.
Kindred Celebration
Caesar Salad
Fresh Romaine Lettuce Tossed with our Garlic Caesar Dressing, Herbed Croutons & Grated Parmesano Reggiano.
Grilled Lamb Chops
New Zealand Lamb Chops Marinated in Extra Virgin Olive Oil & Fresh Rosemary. Grilled & Sauced with a Zinfandel Red Wine Demi-glace.
Grilled Salmon
Atlantic Salmon Filets Brushed With A Herb Vinaigrette Grilled & Drizzled with a Basil Chimichurri.
Risotto Cakes
Creamy Wild Mushroom Risotto Patties Sautéed in a Sage Butter to a Golden Brown.
Wilted Spinach
Baby Spinach Sautéed with Shallots, Multi-Colored Sweet Peppers & Finished with a Splash of Balsamic Vinegar.
Brussel Sprouts
Brussel Sprouts Sautéed in Butter with Bacon & Shallots then Deglazed with Orange Juice & Grand Marnier Topped with Candied Pecans.
Menus shown are only samples and can be customized to fit each client's needs.