Testimonials
---
Proudly presenting our customer testimonials for your review: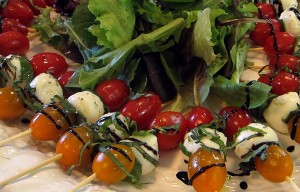 Wesley's is seriously THE BEST!!! We used them for our wedding and cannot say enough good things about the food and service we received. So many of our guests commenting on the food stating that is was 'one of the best meals they've ever had at a wedding'. We are so pleased with how everything turned out! Thank you!!    -Lindsay M.
 Thank you so much for making our wedding weekend so special! Every guest approached just to say how great the food was all weekend! Your team made our weekend and we were so lucky to have you there. Thanks again!     -Nick and Heather
Kathy and I wanted to let you know we had a wonderful wedding day! We were so blessed with perfect weather at the perfect place with absolutely amazing food! The dinner you and your staff prepared became one of the highlights of the day. We have had countless guests coming back to us describing how good everything was. Including several family and friends saying it was the best food they have EVER had at a wedding and wanting to know who the chef was. We can't thank you and Kathy enough for all the hard work you put in to make such a memorable meal to share with our family and friends. – Dave & Kathy Dorian
Thank you again for your amazing food! It was a true highlight.   – Allison Bondie
Thank you for helping make our anniversary celebration a great success. We have heard many compliments on the food. We will definitely recommend you to any of our friends who may be looking for catering services. – Dave & Peggy
THANK YOU so much for an amazing experience! You made our day extra special and I can even being to tell you how much everyone LOVED the food!  -Caitlin & Justin
We wanted to thank you for all you did to make Michael and Maddy's wedding a huge success. The food you cooked and served was amazing. Everything tasted delicious and was so fresh! We appreciate all your staff for their help and professionalism. You made the whole process so easy and took care of so many details. We will recommend your services everyone!! You're the best.   -Laura and Steve
Wesley's Catering was amazing from start to finish! They invited us into their home for the tasting, and we loved that they owned their own company (vs us using a chain). Everything at the tasting was better than I imagined, and Todd took the time to explain what was in everything, and what seasonal aspects he could use for our fall wedding. We easily crafted the menu, and he gave us the leftovers to take home. From there, communication with Todd and Kathy was flawless. They answered any question I had immediately, and were extremely easy to work with. They were perfectly on-time on the wedding day, and all the food was ready when promised. Most importantly all of our guests raved about the food, which never happens at weddings. Wesley's provides an outstanding dinner, not just "wedding food" like we are all used to. I would absolutely recommend Wesley's to anyone needing a caterer for any event. They were hands down the best catered food I've ever had at a wedding or seated dinner, and we were blown away by what they did for our wedding!
Everyone was super complimentary about the food. Lots of rave reviews! People remember that stuff. Well done! Your staff was amazing, too!!!
Thank you so much! Everyone was raving about the food! Some said it was, 'the best wedding food ever!'
Thanks for everything-fantastic team/fantastic food! We are very grateful.
Almost a month later and everyone is still talking about how amazing the food was at our wedding. Todd, Kathy, and Michaela were all incredible to work with. My husband and I can't thank you enough!  -Emily Rubin
I just wanted to say THANK YOU again for all of the amazing work that you and your staff did to make Allison and Eric's wedding day such a great success! I can honestly say that your food was THE BEST I have ever had at a wedding…I think everything was AMAZING!!!  -Ashley, Wedding Planner, Festoons & Flourishes
The food was delicious and many compliments were given! It was the perfect night for Madeline and Michael, and you and Kathy were a huge part of this event!  -Anne and Mike
Thank you so much for the wonderful food and service!    -Chris Wetmore
I don't know how much more pleased we could have been with your food, with the set up, with the way you all just came in and handled everything and with your gals for tending to everyone. We couldn't have asked for more. Outstanding on all counts. Thank you very much for everything.  Rave reviews on the beef by the way. Tons of compliments made their way to me from our guests!   -Curt Winans
You and your team did a great job. The food was presented and cooked perfectly.    – Chad Obenauf & Sarah Blacklock
Thank you so much for all your hard work!! Everyone loved the food!     -Stacy Green
We used Wesley's for our rehearsal dinner and wedding and our guests cannot stop raving about how wonderful the food was! Todd and Kathy are easy to work with, affordable, and most importantly, pour passion into their work and food. I appreciate how Todd creatively came up with the perfect menus for our events so that they were not typical wedding meals yet were enjoyed by all. Thank you Todd and Kathy! – Lyndsey Talon
The food was delicious and many compliments were given! It was the perfect night for Madeline and Michael, and you and Kathy were a huge part of this event! -Anne and Mike
The food was excellent! I won't hesitate to recommend your company. Thank you for helping to make my daughter's wedding day so special!    -Marilyn Gibson
Thank you so much for working with us to get us a menu we absolutely LOVE!    -Mike & Stef
Thank you so much for the luncheons you've catered here! I've had SO many rave reviews. Just smelling the food you guys prepare back there makes my mouth water!     -Kate Falconer,  Foresee
Thank you from the bottom of my hearts for making our wedding so special last August. To this day people are STILL talking about the greatest food they've ever had at a wedding. You guys work your tails off, and we are so fortunate to have worked with you. Best of luck this upcoming wedding season!  – Tim & Sarah Whalen
The food was excellent! I won't hesitate to recommend your company. Thank you for helping to make my daughter's wedding day so special!  – Marilyn Gibson
Thanks again for the wonderful food for this year's School of Kinesiology Holiday party…it was a BIG HIT…everyone loved to food!!!  – Leona Cranford, University of Michigan School of Kinesiology
I cannot say enough good things about Wesley's Catering. They catered our wedding and our friends and family STILL talk about how amazing the food was. It was like eating in a foodie restaurant- everything was fresh and vibrant and looked and tasted amazing. Not only was the food delicious, but Todd and his entire team were an absolute dream to work with. We never had any stress about food during the planning which was a huge load off our shoulders. My fiancé and I had no idea what we were doing and Todd guided us to planning our dream wedding spread. During the wedding I was so busy I didn't have time to try the appetizers and someone from the team noticed and brought me a plate. Thoughtful, hardworking, incredibly skilled, efficient, and (especially considering the incredible quality of the food/cooking) Wesley's Catering is worth every penny. Todd and his lovely wife are such good hearted people and it showed in the passion and details they put into our wedding. They also catered our small rehearsal dinner and in both meals literally everything was perfect and insanely delicious. I wish I could think of an event or party to have them cater, just to eat more of that food! From fresh ceviche to creamy ravioli to rich beef tenderloin and salmon to beautiful salads and yummy tacos, it's all amazing! Thank you Todd and team- you are the BEST!       -Molly Berger
We want to thank you for the fabulous food and wonderful service you provided for Alli and Eric's wedding. We, and our guests, were so impressed! Everything was not only delicious, but also beautifully presented. You are very talented, and we appreciated all of the hard work that goes into your catering.   -Cheryl Bondie
The food for Ashlee & Kevin's wedding was absolutely wonderful!!  All of our guests commented on how good it was.  Thank you so much for helping to make a wonderful day even better, we couldn't have asked for anything more!!       -Cheri Donie
We want to thank you from the bottom of our hearts for catering our wedding. Your hard work throughout the entire planning process – from helping us pick the perfect menu, to guiding us through the planning process, to day itself – is so appreciated! The food was absolutely amazing – we are still getting compliments on it from friends and family! The passion you have for what you do truly shines through every detail. Thanks again for everything!  – Sincerely, Courtney and Brad Foster
Thank-you again so very much for the wonderful food and service at our daughter's wedding. Everyone loved all the dishes. Those lamb chop lollipops were out of this world as was the grilled beef tenderloin! Everything was fabulous!Your staff was all so helpful and professional – I was amazed and thankful at efficient and pleasant they all were! You have a great crew! Thank you from the top and bottom of my heart!!!       -Lydia Davis
I grow local, organic food for a living and I've shared countless delicious fresh farm meals. I was quite picky when we were interviewing caterers for our wedding with a guest list of 350. Todd and his wife came to our house for a tasting and prepared all of the dishes I had requested from his menu plus more of his own recommendations in front of us in our kitchen while simultaneously discussing our wedding plans. We were absolutely impressed by everything we saw, heard, and tasted.
While Todd may have expected we would select a few dishes we liked best, we ordered almost every dish and were delighted when he agreed to make them all! One of his surprises was a pickled tomato-basil-mozzarella salad, which at least two men that squirm at raw tomatoes loved at the wedding. I love getting more fruits and veggies into peoples' diets. Todd perfected country greens at my special request, with smoked turkey substituted for pork due to guest diets. The dishes were beautifully presented, sauced meats were great. The gourmet sliders were a fantastic, much-needed late-night snack for everyone that had hit the dance floor. Every single guest loved the food. Our families happily received so many compliments.
Todd prepared by meeting us at our venue several times, offered great event advice, and handled so many details, consulting us along every step. You certainly will not be disappointed with Wesley's Catering! Thank you so much for making our wedding delicious!       -Renee Pereault and Tim Larsen
Well done! A quick note to include our sincere thanks for a wonderful buffet and service on Saturday. The girls all appreciated the fabulous food and heard several times that their grad party had the best food of the day! Even I had to indulge in a burger and I loved it! Thank you again for the special gluten-free items on request. This made all the difference for our Celiac guests and are Type I diabetics. Certainly everyone enjoyed it tremendously. Your team did a great job parceling out options throughout the party.        -Pam Powell
Thank you so much for helping Jason and I have perfect day. Your food was absolutely delicious. All of our guests are still talking about it. You both may our lives so much easier leading up to our big day. Thank you again for all of your hard work in making this day one we will never forget. Your thoughtfulness is truly appreciated. Thanks again.        -Jason and Lindsay Cross
Thanks so much for catering our wedding. All of our guests raved about the food. We loved it as well! You and your staff were so kind and helpful. Thanks again.        -Josh & Jackie White
Scrumptious! We found Wesley's Catering online while searching for somewhere to have our wedding. We were planning a small/medium size morning wedding with a buffet lunch and some passed snacks prior to the food coming out. We met with the owner, Todd, about menu options after looking at what he had to offer on his website. We narrowed it down to about 20 things and just couldn't decide. After talking to Todd about our likes and dislikes, how many folks would be attending and dietary restrictions that were in play, we came up with a perfect menu that accommodated both our meat lovers and our vegetarian friends. The one thing I know of sure is that everyone LOVED the food. There were almost no leftovers and everyone was raving about the food – even three days afterwards. The small touches Todd added to the buffet table, the chalkboard with the menu listed, the extra platters for some spur of the moment additions absolutely helped make everything look beautiful and the lunch a huge success. We will be going back to him for all of our catered events – no need to go anywhere else.       -Karen O'Brien
Just wanted to tell you how much everyone enjoyed your dinner! This group has done this sort of thing several times over the years and by far, your food and presentation of it were the best! My personal favorite was the garlicly appetizers and the bread pudding, but it was all fantastic! Thank you for having 2 lovely servers and cleaning up my kitchen so completely!       -Julie Beers
Thank you to Todd and everyone at Wesley's Catering, for preparing a FANTASTIC meal for my wedding this past Saturday. All our guests raved about how wonderful the food and presentation were. I will definitely use you again in the future. Again, THANK YOU,THANK YOU, THANK YOU!!!       -Murphy Payeur
Thanks so much for putting on our wedding! We've received numerous comments on how good the food was! We thought your servers and bartenders did a great job too!       -Xinh & Art
Tom and I used this for our Rehearsal Dinner. The food was phenomenal as was the service! Thanks so much Todd and Staff.       -Carmen Payne
From first hand experience, Todd is a excellent chief, creating, preparing and presenting delicious food for all occasions.       -Jeanene Riemenschneider
Wonderful!!!! Highly recommended!!!      -Susan Riemenschneider
Great food. Very professional.      -Mhk268
Todd is a Great chef!!!!       -Paula Cattell
My wife and I love Todd's food.       -Gene Jones
I have had the good fortune of eating many of Todd's creations. They taste as good as they look. My favorite is his Kalamata Olive, Caper & Anchovy Tapenade served on garlic rounds, it's wonderful!       -Maxine Moulton
Enjoyed Wesley's Catering for the first, and definitely not the last, time at the Mother's Day Brunch. It was a buffet, and I am so glad I didn't have to choose between entree's as I don't think I could have – everything looked fantastic, and then tasted even better. I'm still thinking about the tenderloin….and the spinach ravioli….and…..I'm hungry. I will be recommending them and happily book them myself for upcoming catered events.               -Amanda Tarasow
My department had Wesley's cater a couple weeks ago and the food was great! Everyone raved about it.      -Anna Folsom
Thank you so much!!! Food was amazing!!!!!      -Chris Zarinnia
Thank you so much for catering prom! Our group of almost 40 had a wonderful time, the spinach ravioli was everyone's favorite. The dinner complemented our night perfectly.      -Krista McInnis
Thanks to Todd Brown of Wesley's Catering for a delicious selection of food with an awesome presentation at Julie and Jim's wedding Saturday. If anyone is seeking food catered even for small functions this business is over the top in selection, taste and affordability. The staff was very helpful, personable and added so much to the special day. THANKYOU Wesley's Catering/Todd Brown and staff!!!!!!!!!!!!!!!!!     -Sheree McConville
Smoked BBQ pork sliders on rosemary rolls–Katie (8 years old) ate 4, Alex (7 years old) ate 3. Nice work, thank you!!! I have never seen my children eat like that.     -Amy Mitchell
Amazing Herb Panko Encrusted Walleye with grilled shrimp and remolaude sauce!          -Linda Girard
Thank you again for the amazing dinner on Friday. The entire group was raving how great everything tasted!          -Jennifer Riemenschneider
Thank you again for the excellent catering & delicious gourmet quality food that you and your staff prepared for Renee Pereault & Tim Larsen's wedding.  Everything was colorful, fresh & tasty.  We had so many compliments and inquiries about your cooking & presentation.  We would definitely recommend you to others.  Thanks again for making Tim and Renee's reception memorable.           -Ed & Annette Pereault
Thank you very much for the wonderful catering, excellent tasting food, high quality service and all for my husbands 50th birthday party. I would certainly recommend Wesley's Catering to anyone. You guys are simply awesome! – Lynne Gould
Thank you so much for all your effort.  We are very pleased.  The food was fabulous!! So many compliments.  Keep up the the great work!      -D'Ann Gietzen
We had so many wonderful comments about the food! Thank you so much for going the extra mile for us. It truly was a beautiful event-thanks to you! – Nancy Steeby-Smith
Your luncheon spread was just what we needed. Rave reviews from everyone! – Ann Sweet
The food and presentation was wonderful. Many, Many compliments from the attendees! – Shannon Steinbach
It was a great party because of you and your staff! Everyone was so friendly and helpful and the food was terrific! – Cheryl Ruble
I've had nothing but raves about the food!! It was nothing short of exquisite. And your staff is to be complimented on their cordial and professional service. Thanks again. I will highly recommend Wesley's Catering whenever the opportunity arises! – Marcia Mullen
I just want to make sure that someone reached out and told you how awesome everything was. You seriously blew Joe and I away (and as I write this I'm eating leftovers…again. Your staff was polite and worked till the bitter end, the food was really special, and you made everything look so beautiful….food and decor. I would recommend you in a heartbeat! Thank You!!!!!
– Erica Bielski
Thanks for the great food and setup. I received so many compliments on the food and presentation. Everyone had a great time at my son's and daughter-in-law's rehearsal dinner. Your staff was wonderful and I would highly recommend your services for any type of event. You were caring and willing to satisfy my requests to make my event very special. Thanks so much and continued success in your catering business! – Paula Bryant
A sincere thanks for a wonderful buffet & Service on Saturday.  The girls all appreciated the fabulous food and I heard several times that our graduation party had the best food of the day! -Pam Powell
Thanks again for an awesome meal! Please extend our thanks to your staff as well. We received nothing but compliments on the food.  – Bruce Sullens
Thank you – your meal was elegant, delicious and served by such friendly staff.  It was perfect for the beautiful wedding!   – Becky Reisinger

A big thanks to you and your staff! The food was awesome! – Kim DePaoli

Everyone kept raving about the dinner. Good job!!!! Thanks for all your help to make it a great event.  -Leslie Mader
I had your food a couple years ago at the Taste of Chelsea and then attended my good friend Lindsay's wedding this past weekend. The food was so amazing!!! I just wanted to tell you how great of a job you did and how wonderful everything was.  – Caitlin Blomquist
Thanks so much for putting on our wedding! We received numerous comments on how good the food was. We thought the servers and bartenders also did a great job.  – Art & Xinh Donahue
Please be sure to view our gallery  to see more tasty creations!  Then contact us to help make  your event memorable!